Healthcare Webinar Series
Virtually join us to get answers to your most pressing questions about senior care, in the comfort of your own home !
Our Expert Panel of Speakers
Register for Upcoming Webinars
TAREK A. EL NABLI
TAREK A. EL NABLI
Founder and CEO
Parentis Health, Parentis Foundation and Verona Court
After nearly two successful decades in the insurance and financial planning industries, Tarek founded Parentis Health to help empower patients and families through education, advocacy and coordinated care services. Over the past two decades, Parentis Health has grown from just three residential homes to becoming the only healthcare company that offers services that span the continuum of care, including Home Health, Hospice and Home Care services.
As a co-founder and CEO of Parentis Health and Verona Court residential care facilities, Tarek personally ensures that patients and families experience the highest possible level of care regardless of circumstances or income level.
Tarek and Parentis Health co-founder Arda Kardjian also founded the Parentis Foundation, a non-profit intergenerational literacy organization. Parentis Foundation changes lives by positively and significantly impacting both our older adult volunteers and the future generation of young readers.
ARDA KARDA KARDJIAN, RN, BSN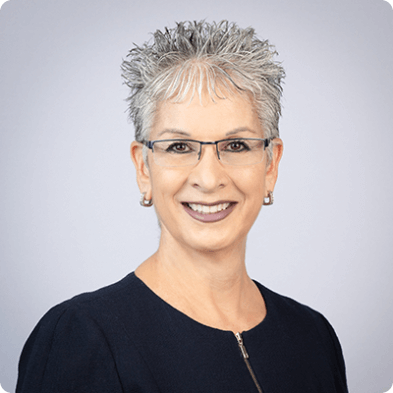 ARDA KARDJIAN, RN, BSN
Founder and President
Parentis Health, Parentis Foundation and Verona Court
With over 30 years of experience as a registered nurse, and nearly 20 years of owning and operating Verona Court, for Arda, healthcare still remains personal. Her own experiences as a caretaker began in 1985 when, as a nursing student, she moved her family along with her aging parents from Jerusalem, Israel, to Yonkers, New York, ultimately relocating to Southern California.
Arda channels her experiences of caring for her own family members into every patient at Verona Court, treating everyone in her care with the utmost dignity and compassion. As the co-founder of the Parentis Foundation, Arda provides both older adults and children opportunities to enrich their lives and share a sense of purpose through the power of literacy.
CECILLE SPARROW, RN
CECILLE SPARROW, RN
Director of Patient Care Services
Parentis Health, Home Health
With over thirty years of experience in the healthcare industry, including both inpatient and post-acute care, Cecille brings extensive hands-on experience to the Parentis Health Executive Team. Driven by a lifelong passion to help others maintain their independence, Cecille built multiple Joint Commission and Accreditation Commission for Health Care (ACHC) facilities from the ground up and previously served as Home Health Director of Patient Care Services for Parentis Health.
As Vice President of Operations, Cecille's expertise in quality patient care, commitment to high level performance, business leadership, and strong analytical skills allows her to help Parentis Health achieve its mission of not only providing the best possible care to our patients, but providing a true continuum of care.
Melody
MELODY HALL
Care Manager
Parentis Health, Home Care
Melody brings over 30 years of experience working with diverse client populations, including at-risk children and adults, to the Parentis Health Leadership Team.
With 18 years of experience as a Senior Facility Manager in Residential Board and Care,
Melody has a proven track record of managing successful care facilities and ensuring that seniors receive optimal health. Her expertise includes coordinating care and serving as a liaison between families, clients, and health professionals.
As Care Manager, Melody brings a wealth of knowledge and experience to her role at Parentis Health, where she is committed to helping the company achieve its mission of providing the best possible care to patients and dedicated to helping seniors live their best lives, with dignity and independence.
Jasmine
Jasmine El Nabli, MS, RDN
Health and Wellness Expert
Parentis Health
Jasmine is a highly accomplished and respected professional with over a decade of experience in the health and wellness industry. As a Master's level trained registered dietitian, she has extensive knowledge and expertise in nutrition, disease prevention, and longevity. Throughout her career, Jasmine has honed her skills in healthcare marketing, digital and public speaking, and patient education, allowing her to effectively communicate complex health information to diverse audiences.
As head of Health and Wellness communications for Parentis Health, Jasmine is responsible for promoting disease prevention and longevity through patient education, community outreach, and strategic partnerships. Her leadership and expertise have helped Parentis Health become a trusted source of health information for individuals and communities across the country.
Register for Upcoming Webinars
Our Partners & Associations
Creating a Better Tomorrow, For Seniors Today